Coating Thickness Meter
alice
2014-11-17 15:01:22
Coating Thickness Meter is widely used in machinery, automobile, shipbuilding, petroleum, chemical, electroplating, spray, enamel, plastics and other industries. The thickness of non-magnetic coatings can be easily nondestructive measurement of ferromagnetic material on it, such as zinc, copper, chromium plating or paint, enamel, glass, steel, paint, asphalt coating on the steel surface thickness.
  Coating thickness measurement of the thickness of the main magnetic substrate covered with a non-magnetic layer, and eddy current coating thickness measurement is a non-magnetic substrate
The cover layer thickness.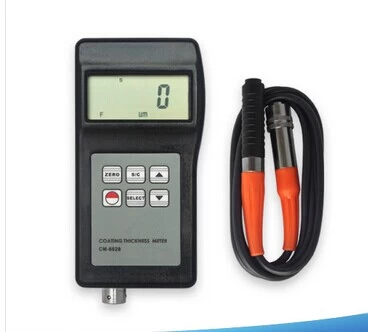 Specifications
In built probe(s)
Operating principle: magnetic induction/eddy current (F/N)
Measuring range:0-1250um/0-50mil
Resolution; 0.1/1
Accuracy: ±1-3%n or ±2.5um
Min. measuring area: 6mm
Min. sample thickness: 1.ther range 0-200um to 15000um