Good Tool to Test Distance - Laser Distance Meter
In our daily life, maybe sometimes we need to test the distance between point to point, if the distance is short, we may use a rule, but sometimes, a distance for a few meters, how we do that? Laser Distance Meter can help you!
RZE40 cheap laser distance meter

1.Instant measurement of distance, area & volume with one button operation
2.Wide measuring range:0.2 to 40m (0.65 to 131ft)
3.High accuracy:2mm (0.079inch)
4.Automatic calculation of Area and Volume
5.Indirect measurement by Pythagorean Theorem
6.Single/Continous measurement
7.Max/Min distance tracking (display value)
8.Easy Addition/ Subtraction of measurement
9.Set up front / rear benchmark
10.Selectable meter(m), inch(in) and feet(ft)
11.Data store/ recall function:99 data store
12.Data Hold / Data clear function
13.Level bubble
14.Easy targeting with bright laser pointer
15.Large LCD with backlight and multi-line display (4 lines)
16.Auto correction and error report technology
17.Buzzer indication
18.Battery status Indication
19.IP54 protection (dust & splash proof)
20.Auto / Manual power off function
21.Multifunction with intelligent calculation
22.Compact & handy design
23.CE, ROHS, FCC certificate
Specification:
Laser wavelength:635nm
Laser maximum output:<1mW
Dust & Splash proof:IP54
Laser Auto off:30s
Power Auto off:3min
Operation temperature:0~40C (32~104F)
Storage temperature:-10~60C (14~140F)
Power supply:3 x 1.5V AAA battery
Weight (Including battery):180g
Dimension:118*54*28mm (4.65*2.12*1.10inch)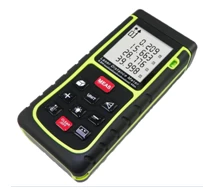 For this series we not only have RZE40, also other models to measure different distance.

Please don't hesitate to contact us if you need such tool.