JEM-II Diamond Tester manufacturer in sales promotion


Diamonds are rare, beautiful, and also quite useful. They are the hardest substance found in nature.

Moreover, people today see it as a symbol of love and loyalty.But do you know how to identity the authenticity of diamond. Our diamond tester makes it easy.

 
This diamond tester does not react on stones like fake crystals, or simulants such as cubic zirconium, when the probe touches the surface. It is the easiest answer for the vast majority of retail jewelers, pawn brokers and chain stores when faced with the decision of which diamond selector to buy. Why? Because it works reliably and share the most advanced diamond selector technology on the market. 
The JEM II is a "touch and tell you" device that utilizes the feature of high thermal conductivity of diamond. It effectively and quickly distinguishes natural diamond from all models of diamond simulants and metals, except synthetic Moissanite which has similar thermal conductivity to Diamond. 
There are some diamonds in the market these days which the diamond selector detects even if the diamond is not the genuine one Have a most reliable & amp;. User friendly diamond selector, get the JEM-II diamond tester!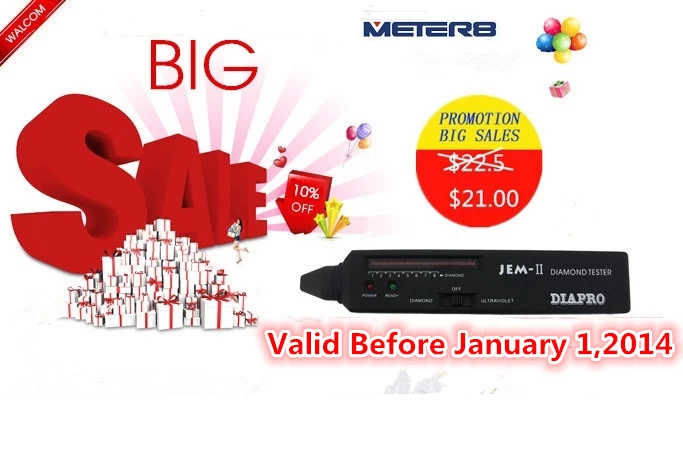 Features:                                                                                                                                              
Equipped with ultraviolet light to test fluorescent reaction of stones. 
Easy calibration with Level Meter Volume to match different sizes of stones. 
Can distinguish stones as small as 2pt. 
Can be connected with A / C adaptor for long time indoor use. 
One year limited manufacturer's warranty. 

Specification:
Working voltage: DC 9V, 6F22 battery, or AC adaptor (110V- 240V, DC 9V, optional). 
Probe warm up time: about 25 seconds. 
Working time: about 5 hours for continuous use. 
Working temperature: 18 to 30.