HT-9264 waterproof digital thermometer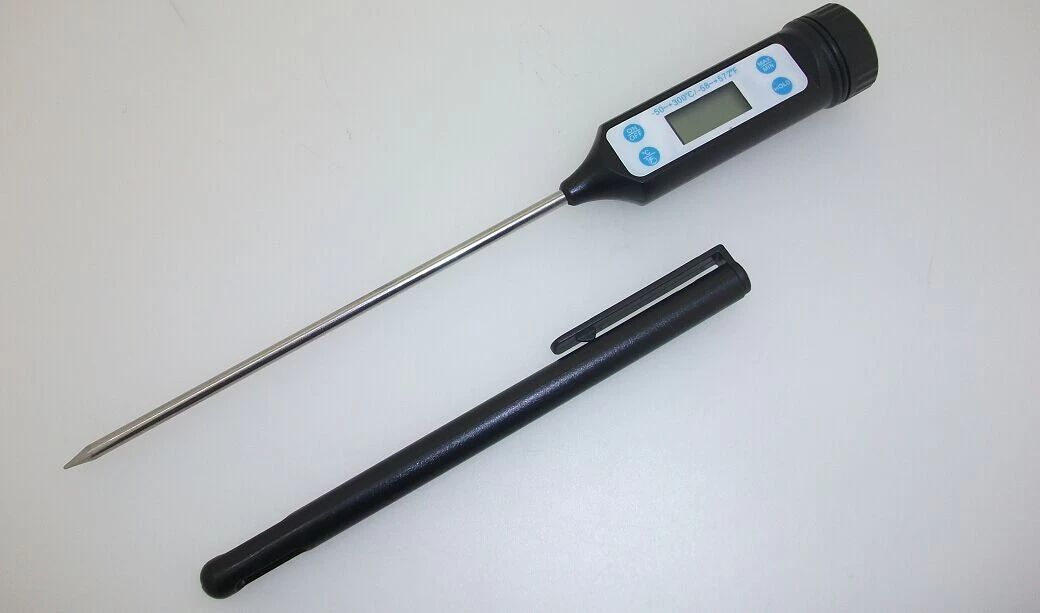 HT-9264 Cooking waterproof digital thermometer with long stainless probe    
1. Product Specification: 
1).Measurement range: -50ºC to 300ºC(-58ºF~572ºF)
2).Accuracy:+1ºC(+2ºF)between range -50ºC to 200ºC(-58ºF to 392ºF),
    otherwise more than+ 2ºC(+ 4ºF)
3).Resolution:0.1ºC between -19.9ºC to 299.9ºC,otherwise 1ºC
4).Sampling Rate:1 Second
5).Battery:1PCSX1.5 volt type LR44 or equivalent
6).Probe size:125mm(L)
7).Ambient temperature:-10 to 50ºC/+14 to +122ºF
8)The whole size:20×216mm;
9)The size of screen:21×8mm
10).Material: ABS(ROSH) and Stainless steel(304)
11)It have passed CE certificate.
12).Packing: 1pcs of each box, The box size: 230mm*112mm*25mm,200pcs of one pack, 
The pack size:  520*465*380, N. W:11.1kg ,G.W12.1kg. 
2. Features:  
1) wide measurement range
2) waterproof
3) stainless steel probe
4) oC/oF selectable
5) data hold
6) max/min temp.memory
7) protective probe cover
8) Automatic power off after 10minutes
3.Applications:
-air conditioning
-food processing
-agriculture
-amtomobile
-brewing
-photography
-food storage
-refrigeration
-pharmaceutical
-laboratory
-petrocarbons
 MORE DETAILS ,PLS CLICK HERE:http://www.meter8.com