REF116C honey moisture refractometer
alice
2014-10-31 10:37:03
The biggest climate feature of Autumn is dry , and honey have
moisture 
function
, it is very suitable to take in fall. Drink honey
can alleviate a lot of water due to evaporation caused by dry, protect the skin and body.Drink honey's best time is 
in the morning, because the morning drink honey, you can quickly add the physical.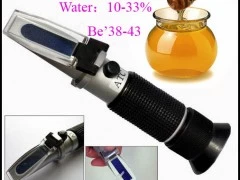 REF116C
 handheld 
refractometer
,this product is hot sale in the world and used to
measuring honey moisture.
In addition,t
hese model are developed for most general purpose work. It can measure concentration of fruit juice, coffee drinks, cocoa drinks, soft drinks, tomato juice, water-soluble cutting oil, water-soluble washing solution, etc.